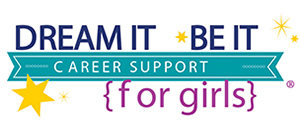 Saturday, March 28, 2020
8:00 a.m. to 3:00 p.m.
Spring Mill Country Club
80 Jacksonville Road
Ivyland, PA 18974
Soroptimist International of Indian Rock has been working to empower girls since 1972. The third annual Dream It, Be It: Career Support for Girls conference will be held on Saturday, March 28, 2020 at Spring Mill Country Club in Ivyland, PA. Girls (ages 14-18) may attend at NO COST to gain the career support they need to live their dreams: access to professional role models, career education, and resources. The conference is fun, interactive and impactful.
Topics covered include: Discovering Your Dreams, Exploring Careers, Creating Achievable Goals, Overcoming Obstacles and Putting Dreams into Action, to name a few.  Of the girls who benefited, 90% said they felt more confident about their future and 80%

Contact us via email if you have any questions:  dreamit03.28.20@gmail.com
See attachment for complete registration packet.